While my husband (who had recently been diagnosed with a seizure disorder) was looking for work and volunteering, I was at home raising our four school-age children, with no prior work history or a GED. We were on the TANF program for temporary assistance. I tag-teamed with my husband to do volunteer jobs.
I learned about the Bean Project from a family member so I went and applied. During the application process, I learned about the program, the products they produce and the work they do. We had a working "hands-on" interview with a team of five. Once I completed the interview process, I waited for the phone call to see if I was accepted into the program.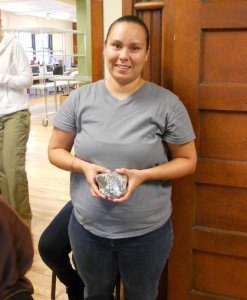 I have learned more than ever before since being hired at the Bean Project, such as production skills, math skills, sanitizing a work area for food handling, and managing a team. I hope to work at a company where I will continue to learn and gain new skills, as well as have the opportunity for advancement. I would recommend this program for other women who want to gain skills, continue working on their education and receive employment training.
While at the Bean Project, my goal was to work at Denver Public Schools in their food service division. My hard work and attention to detail was quickly recognized by the staff and I became a lead in production and supervised other Women's Bean Project program participants on the baked goods line.
I was able to accomplish my personal goals – securing stable child care and making dental appointments for myself for the first time in years!
Today, I am working at Denver Public Schools (DPS) and just received a promotion to Cook Level II. I love my new job and have Women's Bean Project to thank for all they have done for me.