Two years ago, I was a participant at Women's Bean Project. It was one of the most positive experiences I've ever gone through. For many years prior to the program, I lived a crazy life. I came from an intact home, with great parents and awesome grandparents. I attended Catholic school and graduated from East High. I went to college and eventually worked in the DPS school system.
I grew up in a strict household that always stressed the importance of education and responsibility, however, I found myself hanging with individuals who were a lot more street smart than I was. I found the street life exciting and the partying was always non-stop. There came a point where I put myself in dangerous situations both mentally and physically. I would leave the state without telling my family or go on a party binge with my boyfriend for days and neglect all responsibilities but when you live the "fast life", you don't think of consequences.
I was in toxic and abusive relationships with men who were controlling and manipulative. I've been beaten so bad that I was unrecognizable. Eventually, the relationships led to drinking, drugs, and an altercation that got me arrested and introduced to the judicial system. I lost my position with Denver Public Schools and would have more run-ins with the law. Once you obtain a criminal record, it's difficult to find employment. I job-hopped for a few years with no real direction. In 2013, my past came back to haunt me when it was made very public that I had a history. Not only was it humiliating to me and my family, it embarrassed certain state agencies and I was banned from ever working in a classroom again. I had pretty much lost all hope and then divine intervention brought me to Women's Bean Project.
During my participation in the program, my life changed forever. My mother was diagnosed with Ovarian Cancer for a second time. Unfortunately, the cancer spread and there wasn't anything that could be done. I made the choice to become my mom's caregiver, it was the least I could do after all I had put her through. Nothing in life will ever compare to watching my mother die while I cared for her. Despite the fact that she was losing her life, she was worried about what was going to happen to me. I felt so guilty that my mom wouldn't transition in peace because of the way I had lived my life. So her last few moments, I lay next to her, she put her hand on my cheek. I said, "mom, I promise you I will be ok. You don't have to worry, I got this. It's ok to go". She took one last breath and then she was gone.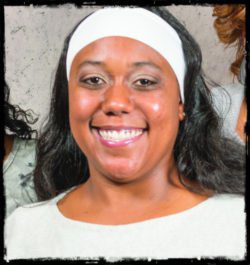 Since then, I've done very well. I was blessed to have the support of the Women's Bean, not only did the friendships help me through the toughest time in my life but I was reminded that I am not defined by my past. Were it not for the program, I would not have found the awesome company I work for, EScience Labs. We are a small company that provides online students with a hands-on learning experience. Although I can't be in a classroom, I'm still able to indirectly educate people by giving them the tools to learn. Within seven months of employment, I was trusted to lead the Chemistry and Forensics team. I've had five raises in less than two years, I've been given opportunities to meet with vendors to improve my lines, I've been offered the buyers position and have even interviewed people for warehouse staff.
Most of all I work for a guy who has taken a chance on someone like me and has allowed me to be myself. I know Scott cringes when he gets an email from me but when you work for someone who constantly challenges you to do better, it is necessary to express what it takes to be the best. The last two years haven't been easy. I'm still very much a work in progress but with my mother's death, Women's Bean Project and my EScience family, I've learned how strong I am.
Frederick Douglass said, " if there is no struggle, there is no progress". Had I not gone through the struggles I've experienced, I would not be this super cool, intense, and complex person. Because of the Women's Bean and EScience Labs, I have the ability to live well and be comfortable with who I am.
~Aminah, 2014-15 Program Graduate