Hi I'm Andriea, I have two kids and two grand kids. Being a mother and grandmother is one of my greatest pleasures. Before I arrived at Women Bean Project, I had been out of work for about two years. I was recommended to come fill out an application for Women's Bean Project and I'm so happy I did.
My story is that I felt like I really needed to start over. I had been out of work for so long, and felt like I was lost in getting back to work. Since I've been at The Bean I have learned and gained many different skills, such as mailing, labeling, packaging, restocking and reception. I've also gained some new friends. Being around different kinds of women has helped me to not be afraid and has taught me to give others a second chance. Plus, hearing some of the ladies stories has taught me that even though my story is not the same as theirs, everybody has a story and I can be a friend to them.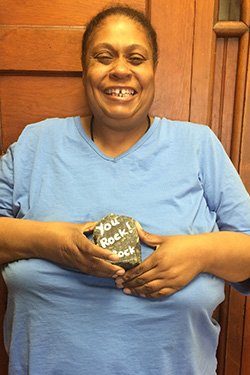 Women's Bean Project has also taught me so many other new skills, like budgeting, organizing and customer service. All the skills I've learned and support I've received from the staff and the women has helped me tremendously!
I'm excited to graduate and move on to my new job at Denver International Airport! I'm going to miss the women I've been with while working at Women's Bean Project, but I'll be back to visit because I love the people here.