I was on federal probation because of drugs and my probation officer suggested I apply for this program. After doing the work and classes at Women's Bean Project, everything is falling into place. I was hoping to get a fresh start on life instead of continuing to go down the wrong path.
I am rebuilding my life and Women's Bean Project has helped me through my challenges. I am now studying for my GED and just got my own housing and am back on my feet. My three kids and I are not struggling as hard anymore. I have learned so many aspects of the job that I can integrate into my life. I work with people instead of getting caught up in the drama.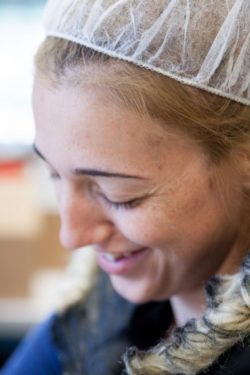 I didn't know I could do all of this, but anything is possible. I'm going to go to school to get a degree in Social Work, as I'm hoping to work with kids who have special needs, helping them interact with other kids.
My number one motivator is my kids, who have made me realize that I need to get my life together for them. Now they are happier that I have a job and can take care of them.
Anything is possible if you try. That's what is true for me!
~Brianna, 2015-16 Program Participant