I was born in Minnesota, the youngest of 3 daughters. My family moved to Colorado when I was four and I have lived most of my life in Westminster and Lakewood, CO.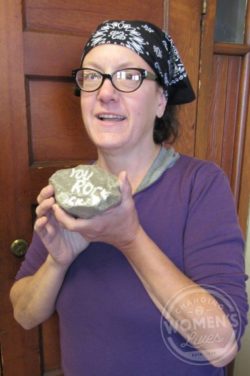 My parents divorced when I was nine. My sisters were older and living on their own so it was just my Mom and I at this point. During elementary school I suffered several emotional stresses. My way of handling these stresses was by turning to alcohol in junior high. By the time I entered high school, it escalated to drugs.
I dropped out of high school at 17 and began working. I would do well for a while and then the stress would get to me and I would begin drinking again. This became my pattern over and over again for many years.
The turning point for me was the death of my father earlier this year. After his death, I was living in my father's home and began spiraling down. My mom and sisters decided it was time to force me to change my life. They locked me out of my father's home. I had no money, no job, and no home! I checked myself into rehab. It was there that I learned about Women's Bean Project.
Once I left rehab, I was homeless for 5 weeks! That was a scary time, however once I made the commitment to Women's Bean Project, my Mom allowed me to live with her until I save enough money to find my own place.
Since I've been at the Bean Project I'm learning about my strengths, my abilities and my self-worth. I'm learning to take care of me first, and learning to ask for help when I need it.
Thank you for taking a chance on me!
~Marta, 2016-17 Program Participant