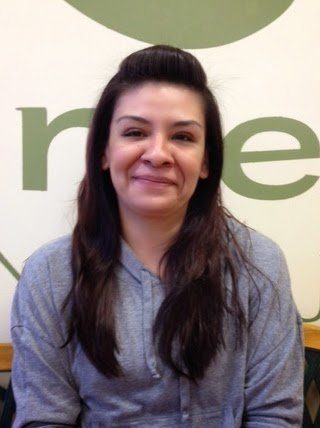 Before starting at the Bean Project, I felt lonely because I didn't know anyone in Colorado. I moved to Colorado from California because I wanted a better environment for my two girls.
I struggled with depression and anxiety and didn't have a job so I started job searching and heard about Women's Bean Project and applied.
Before coming to the Bean Project, I had never worked alongside just women before and have since had to learn how to work with other women.  I have learned production skills and how to package and make bundles, which were job skills I had never done before.
Being in Colorado without my family is easier now because the Bean Project has given me the opportunity to meet and get to know other people.  I don't feel worthless anymore.  Being at the Bean Project has been a good experience for me because they have helped me get back on my feet and become a stronger person, which is the person I am today.  I can stand up for myself now.
I would tell others that they won't regret going to Women's Bean Project.  They help you and you can change, if you want to.  I feel stronger and have become more independent.  In five years, I see myself in a house of my own with my two girls and to have my own housekeeping business.
I was just hired at a brand new Goodwill store in Arvada.  The Bean Project has given me strength.
~Rita, 2014 program participant and recent graduate