30 Years of Transforming Lives
Women's Bean Project has been transforming lives for 30 years, one woman at a time. Thank you for being part of the community that has made this possible. Because of you, women are finding stepping stones to self-sufficiency every day.
30th Anniversary Open House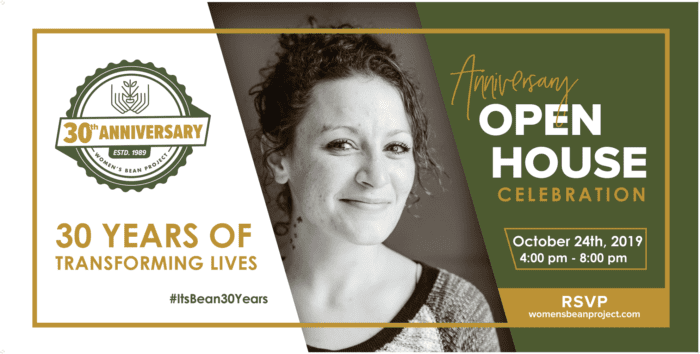 Join Women's Bean Project in celebrating 30 years of HOPE, one woman at a time! Thank you for supporting the women we serve over the last three decades. Meet and celebrate these amazing women during this OPEN HOUSE event, as we reflect on the last three decades and plan for the future. The decommissioned firehouse #10, in the Curtis Park neighborhood, has provided a safe and non-judgmental environment for these women to redefine their journey in life. Your support has made that possible! Thank you!
Come and go as you please! During the open house you will:
Learn how this "social enterprise model" transforms lives
Learn why we are a transitional employment program & food manufacturing business
Meet and celebrate with our program graduates
Enjoy culinary treats created with our delicious products by KS Culinary
Giveaways from our organization and partners
RSVP required – invite whomever you'd like! We'll see you there!
Pearls: Lessons Learned on Our 30 Year Journey
Throughout the year, this blog series will be featuring lessons we've learned as an organization along our 30 year journey. These "pearls," as we call them, illuminate how we've survived and thrived for three decades. We hope by sharing these lessons, we can inspire and help other social enterprises, nonprofits and human services organization.
30 Women We Admire
In honor of our 30th Anniversary, our team is spending 30 weeks honoring women who are an inspiration to us all. These are women we believe have changed lives in the past and in the present, in everyday life and in the spotlight, in their local communities and worldwide.
We have learned there is tremendous power that comes from women helping other women. Our successful 30 years have, in large part, been possible because of the support, inspiration and transformative power we have received from women that support us, work with us and share their journey with us.
Follow along on our social media as we feature #30WomenWeAdmire. Many of the featured women are people the women we hire have identified an inspiration to them personally. We hope you contribute to our story by sharing the women who you admire on your own social media pages by using #30WomenWeAdmire. Thanks for continuing to be an inspiration to us every day! See our 30 Women We Admire.