How a key partnership empowers women to see themselves for who they are 
In the first blog post of this series, I spoke to the importance of community. Community and the creation of communities form the knots that tie us all together in times of uncertainty, hardship and happiness alike. Whether we struggle or celebrate, we do so within the communities we've built. Since 1989, Women's Bean Project has been fortunate enough to exist within an ever-growing community full of passionate, like-minded people dedicated to bettering the world around them. I'd like to continue that discussion by sharing a conversation I recently had with Gloria Padilla of Dress for Success, one of our community partners. Aside from illuminating the work we do together, I think there's something we can all take away from this conversation: we form our communities through seeing ourselves and those around us for who we truly are, and all that we can achieve! Be sure to leave any questions you have below in the comments! 
Enjoy – Jake Feldman, Marketing Intern 
Do you mind telling me a little about your organization? 
The mission of Dress for Success® is to empower women to achieve economic independence by providing a network of support, professional attire and the development tools to help women thrive in work and in life. 
 How long have you been partnered with Women's Bean Project (WBP)? 
Dress for Success Denver has been a Women's Bean Project partner since 2006. We started by providing professional attire to the ladies and in 2010 we began to teach the Career Readiness Classes. 
Have you had any memorable/impactful experiences teaching classes at WBP? 
I have had some of the most memorable and professionally fulfilling experiences at WBP. A short experience I can relate is during the start of a new cohort, one lady was very disruptive during class. At one point, she even threw herself across a desk and pretended to swim. During day three of class, I began to see a very positive change in her attitude and she became the best student in class. After her graduation, she pulled me aside and thanked me for the classes and for not writing her off after the first class. It was a great reminder that when we treat people as valuable members of society, it gives them the opportunity to bring forth the gifts and talents they have to share with their community.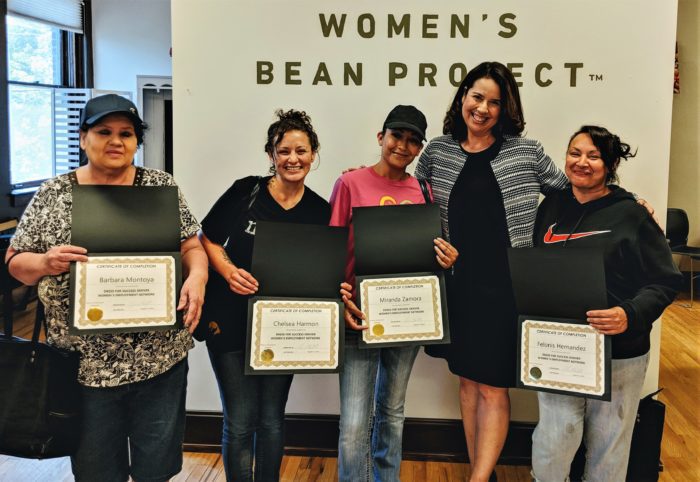 What are some of the most common barriers to employment that Dress for Success Denver works to help participants overcome? 
Our Career Readiness Classes start by addressing one of the hardest barriers to employment there is; The Mindset. We start by teaching participants how to embrace who they are by taking inventory of their journey, taking responsibility for everything in it and extracting all of the value from the good and not so good experiences and choices. Many of our participants are filled with doubts about their self-worth and consider themselves "damaged goods" and that is simply not true. Each class is designed to build the self-esteem by discovering gifts and talents while learning the fundamentals of being a good professional in the workplace. We also assist participants with the appropriate attire for interviews, as well as work and offer them the opportunity to join our post-employment support called Professional Women's Group (PWG). 
What are some skills you hope to see participants leave with? 
I hope to see each participant leave with the skills to first and foremost value themselves, their time and their work. Of course, I also want to see them leave with a solid foundation of knowledge as to how to be successful at work. 
What is something you wish the average/unfamiliar person knew about the programming you do? Benefits? Impacts? Struggles? 
I wish the average person knew how vulnerable we all are and what a difference they could make in their community by showing kindness and support. Our country becomes a better place for all when we build up our citizens, by providing them with an opportunity to earn a living. Our assistance goes beyond our participants. It positively affects their friends and family setting a good example for generations to follow. As far as our struggles, it is always financial. Money is needed to be able to implement the services that are designed to uplift our vulnerable in the community. Please give generously! 
What is the goal and vision of Dress for Success Denver?
Our goal is to help create a world where women no longer live in poverty. We have been told it is a lofty and completely unachievable goal, yet we gladly are dedicating our lives to making it happen!!! 
What's something Dress for Success Denver is excited about moving into next year? 
We are excited and looking forward to continuing to creatively assist women, regardless of what comes our way. We are proud of our team's creativity that allowed for all of our programs to be modified, in order to continue to serve participants in the time of COVID-19. 
Many thanks to Gloria for taking the time to talk with me about Dress for Success and all the amazing work they do. Check out their website to learn how you can get involved!