It is always amazing to see the women who step through the doors at Women's Bean Project transform themselves. Such is the case with Miranda, who came to us in April 2018 with low self-esteem and self-confidence. When you look at Miranda, a mother with four boys ranging in age from one to thirteen, with her beautiful thick long brown hair, bright eyes and soft demeanor, you would never imagine that she spent 65% of her life using addictive substances. That is the beauty of working at Women's Bean Project – getting to witness the women blossoming and becoming the women they were always meant to be.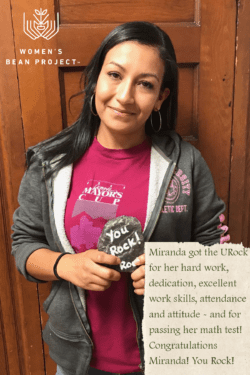 Over the course of Miranda's 9-month employment as a program participant, she truly shined in everything she did. She was reliable and on-time, had a keen eye for detail on the production floor, led by example, and participated fully in all life skills classes. She also earned her GED before she successfully graduated in February 2019.
They say timing is everything, and it's especially true in Miranda's case. Eme Barnes, our Production Supervisor (and program graduate), retired in February 2019 after working at the Bean Project for 13 years. Though we are thrilled for Eme as she starts this next chapter of her life, we are also sad to lose such a rock-solid team member. The good news? We are gaining another shining star in her place. Miranda applied, interviewed and was hired to be our next Production Supervisor!
Miranda will officially take over the reins in her new position on March 4th. When she started working at the Bean Project, her goals were to get her GED, graduate the program, and get a job that will allow her to continue to learn, stay busy and interact with others. Well, I am proud to say that she has accomplished all of those goals. Her future couldn't be brighter, and she is hopeful for what is yet to come!
Kelly Bell, Director of Business Operations