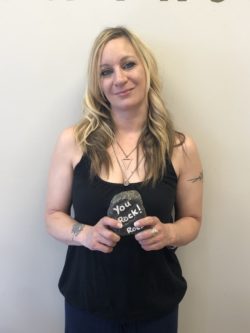 My name is Keri. I am a mother of two amazing kids – 19 and 16 years old. I've struggled with addiction since I was a teenager, and addiction runs in my family. After my kids were born, my father introduced me to a twelve-step program that I did, and I remained sober for ten years. During that time, I worked as a Certified Nurse's Assistant (CNA) and eventually graduated from nursing school with honors.
In 2014 I started to struggle again. The loss of my father and being in an abusive marriage led me back to addiction and I relapsed. I was now not only an alcoholic, but also an IV drug user. Life got bad very quickly and within four months I lost my kids and was on the streets. In 2015, still on the streets and in a world of legal trouble, I survived a gunshot to the back of my head. Although it's taken time to get back on my feet, I am clean and sober again and slowly rebuilding my life.
I graduated from my treatment at the Miracle's program in October 2018 and Denver Drug Court in November 2018. Women's Bean Project has given me tools to build a foundation for my future. I now have full custody of my son again, and we live in a two-bedroom apartment in downtown Denver. The Women's Bean Project has been a huge blessing in my life. I have a safe place to go every day where I feel supported and important.