Get into some green space! Even if you live in a city, it is important to spend some time in nature each week. There's no better way to take advantage of your city parks than by having a picnic! Grab a friend, make some food and feel the grass beneath your feet. Temperatures are rising here in Denver, so we opted to keep it cool on our picnic with iced tea, dill dip with vegetables, a kale tabbouleh salad and chocolate chip oatmeal cookies! Women's Bean Project's spice blends, soups, and mixes make it so easy to create a picnic spread to share. Plus, each products creates jobs for women who are chronically unemployed. There's no better way to spend a sunny afternoon!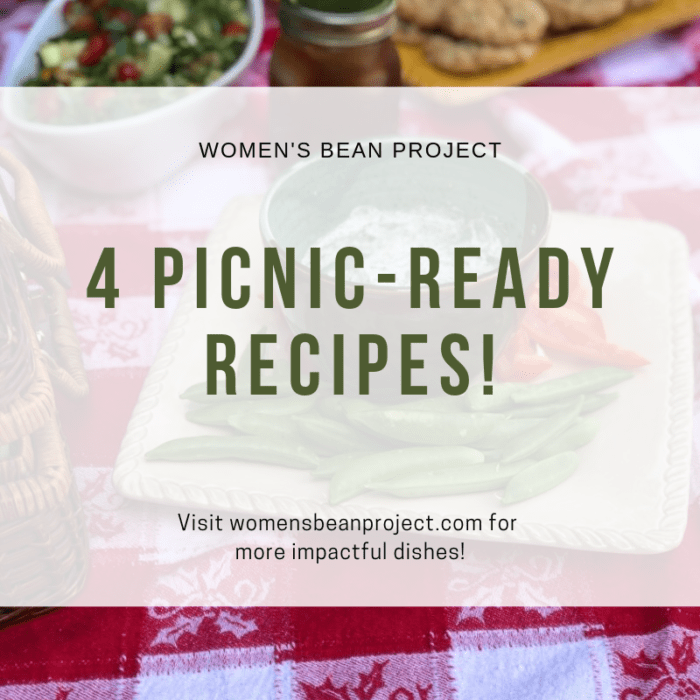 1.       Dill Dip with Vegetables
Our Dill Spice Blend is so easy to turn into a cool, creamy dip! Serve it with your favorite crunchy vegetables, crackers, or use it as a spread. We found that snap peas and bell pepper complement it nicely!
2.       Kale Lentil Tabbouleh Salad
  A salad like this is the whole meal! WBP lentil soup mix transforms into a hearty summer salad complete with tomatoes, cucumbers, onions, and fresh herbs in a savory vinaigrette. 
3. Chocolate Chip Oatmeal Cookies
  Cookies this delicious are worth heating up the oven in the summer. Why choose chocolate chip or oatmeal cookies when you can have the best of both worlds? (Pro tip: if you leave out the egg, the cookie dough is pretty great too.)
4. Raspberry Lemongrass Iced Tea
Iced tea is a summer staple and our unique flavors are a winning combination! You can even add fresh or frozen fruit for an extra kick.
Tell us about some of your favorite summer staples! If you have other creative ways of using Women's Bean products, let us know in the comments!