Hello, my name is Barbara. I am the oldest of four siblings, born and raised in Denver in a very abusive home. My father is an alcoholic and my mother was addicted to speed. Their marriage ended in divorce when I was 12.
I was supposed to live with my mother, but that didn't work out so my grandparents raised me. My mom moved to Oklahoma with my infant sister and my brothers lived with our father. I didn't
finish high school, but somehow, I was able to attend Colorado Community College for a year and a half, taking classes in social work and sociology. I married very young at 19 and have two grown children and three grandchildren.
When my mother passed away, my sister was on her own and in her thirty's. She too, was using drugs and her drug use became worse after my mother past away. My sister and I became closer as I tried to be a mom for her. Three years ago, my sister died from cancer and I became sad and unmotivated. The depression made it hard to get up and do the things I needed to do. My sister-in-law was a participate at Women's Bean Project years ago and told me about how they helped her, so I decided to apply.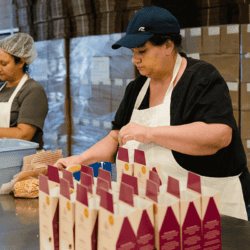 I was hired in April 2018, and I feel good about myself now because there is so much support from staff and the women I work with. I look forward coming to the Bean Project every day because I love the work and I love the friends I've made. I like the feeling of accomplishing our goals set for each day and week and I like working with my hands.
I feel good about myself that I'm getting the classes I need for the future, such as working towards my GED. The art classes make me more relaxed and allow me time to reflect. My goal for the future is to find a dependable job that pays good money. I'm currently in the job search phase of the program and have applied for several jobs. I feel so positive and calm now and know my future is bright!